Upcoming Events
The next Palmas Farmers Market is Saturday, October 14, 2023. Over 40 farmers, agriculture producers, and artisans welcome you between 9 am – 1 pm.
Palmas Farmers Market is open to the public with free parking, stroller & wheelchair accessible, family and pet friendly!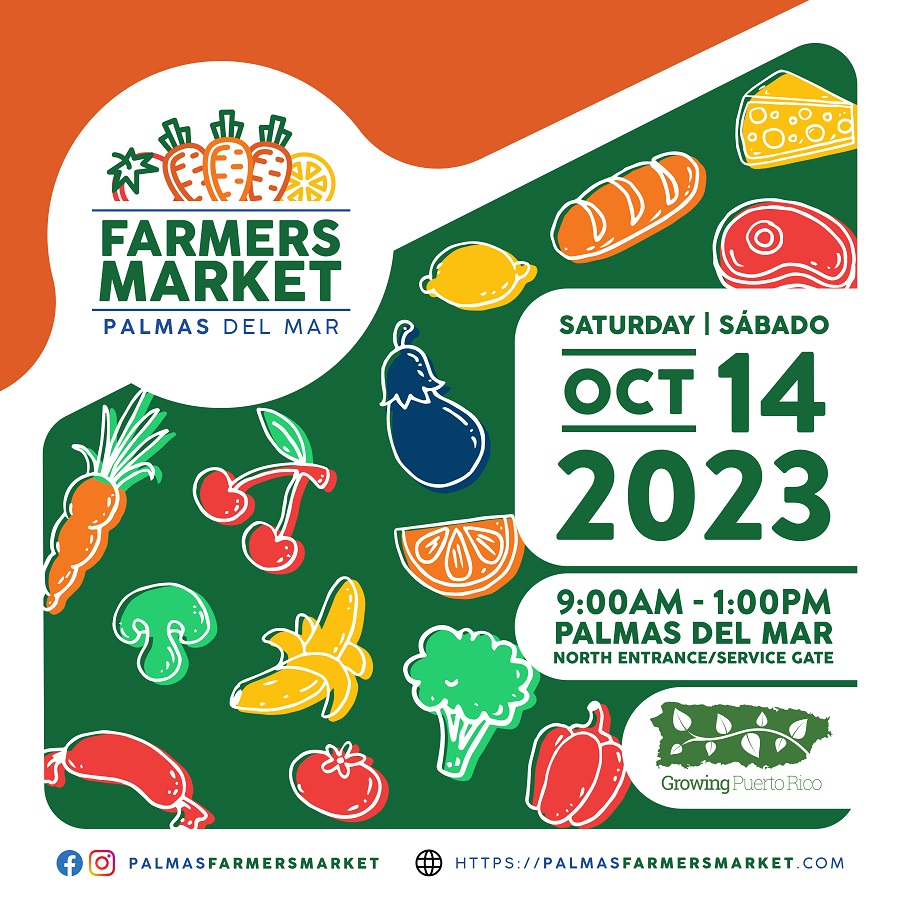 El próximo Palmas Farmers Market es el sábado, 14 de octubre de 2023. Más de 40 agricultores, productores agrícolas y artesanos le dan la bienvenida entre es de 9:00 a 1:00.
¡Palmas Farmers Market está abierto al público con estacionamiento gratuito, accesible para coches de bebés y silla de ruedas, ambiente para la familia y las mascotas!
---
The Palmas Farmers Markets are the second and fourth Saturday of each month.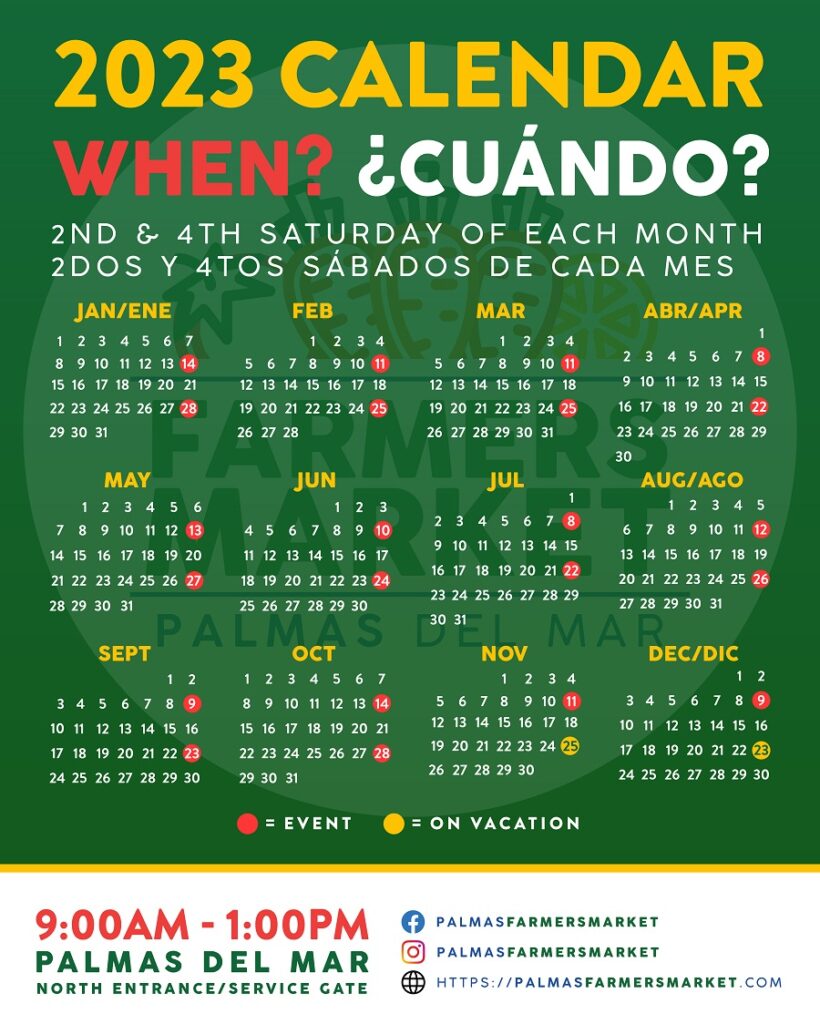 Los Palmas Farmers Market se celebran el segundo y cuarto sábado de cada mes.
Palmas del Mar Farmers Market
Palmas Farmers Market is a twice monthly event for local farmers and agriculture producers to sell their locally gown and produced agriculture within the community of Palmas del Mar, Humacao. This public event provides an opportunity for local agriculture producers to market and sell directly to consumers.
Our vendors are curated to bring you the best quality, local agriculture producers and artisans. We do not allow mass produced imports, MLM products, or "bad" food.
Palmas Farmers Market mission is to bring high-quality, locally sourced produce and agriculture products directly to the community of Palmas del Mar.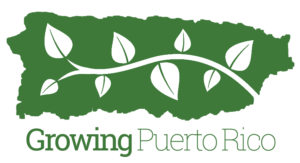 The Events page contains the complete list of vendors and full details for each event with links to pre-order and pickup.
---
2023 Calendar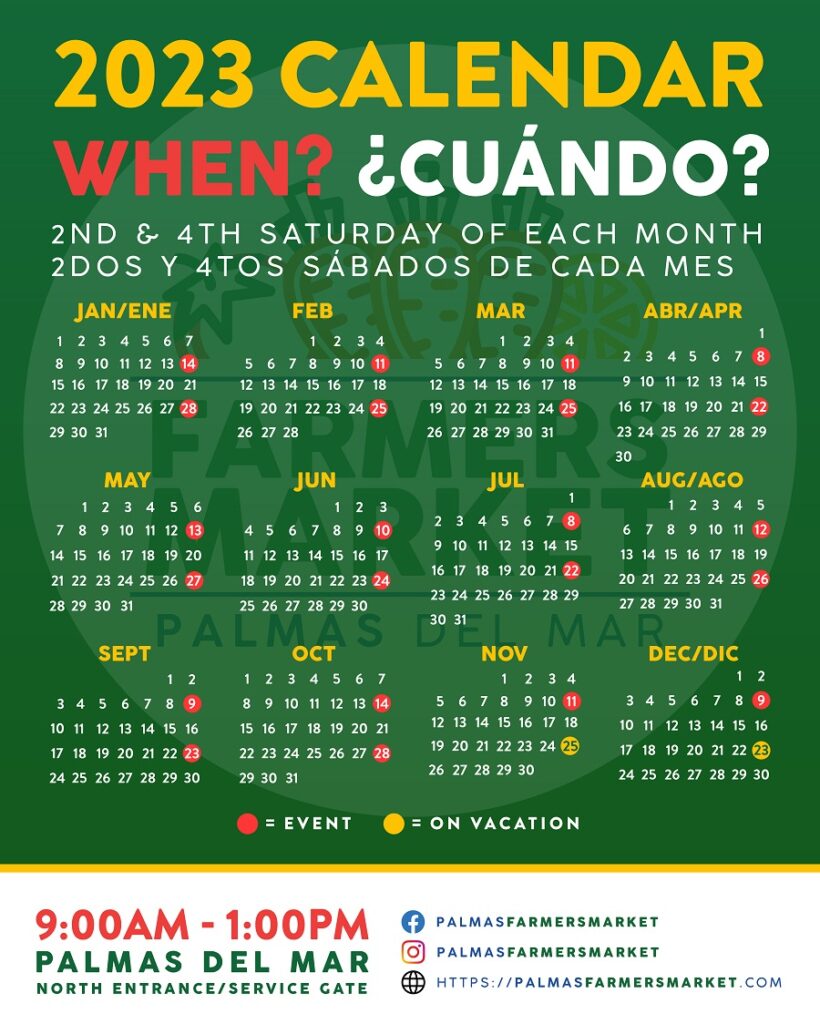 Venue Details
Palmas Farmers Market is located within Palmas del Mar, Puerto Rico on the 2nd & 4th Saturday of every month! Enjoy FREE parking at our new location!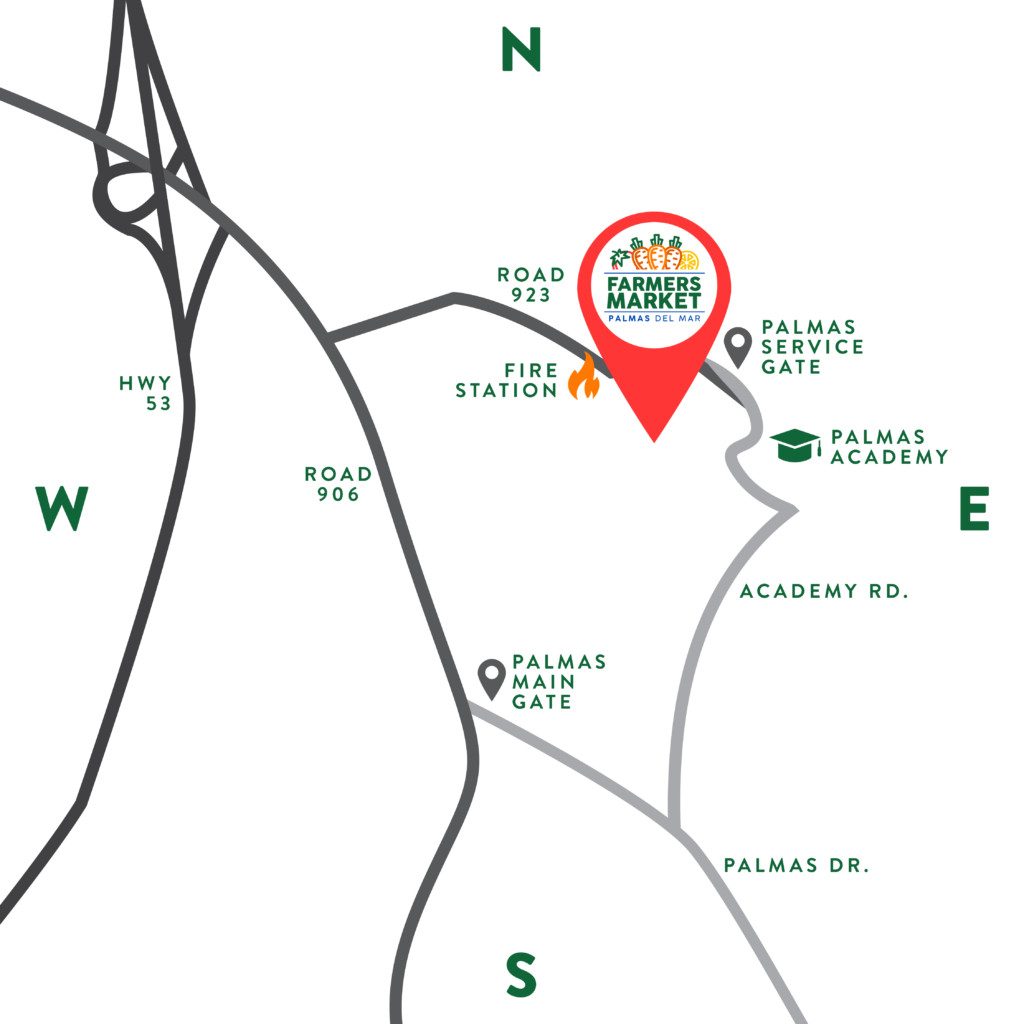 Be a Vendor!
Palmas Farmers Market is seeking locally produced agriculture and food related products, locally prepared food, local artists, and community groups.
Agriculture Producer (Farmers and Ranchers)
Value Added Food Artisan (Salsa, cheese, baked goods)
Prepared Food
Beverage sales (coffee, coconut water, juice, teas)
Non-Profit Organizations
Artisan
Healthy Living
Pets and pet products
Other